Post by kataangist™ Is Nostolgic <3 on Dec 17, 2007 11:59:14 GMT -5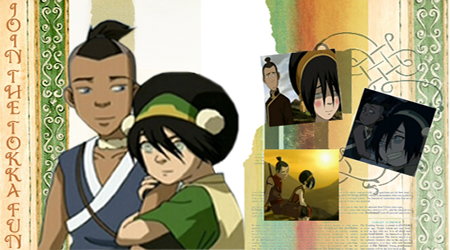 made by
Utsukushii Kohana
Welcome to the new Tokka Bayside Hotel! Hope you'll enjoy your stay!
Other
Avatarspirit.net
interviewed Toph's Voice Actor Jessie Flower and when the topic of shipping came up she said:
Jessie Flower:
Besides the fact that I have never heard the term "shipping" before (laughing), I think that Toph should maybe end up with Sokka, because they are both very sarcastic, and they both love joking around, and like being the boss.
Cynics. It Takes One to Love One: Sokka/Toph Manifesto