Post by mahatista on Jan 5, 2008 18:21:26 GMT -5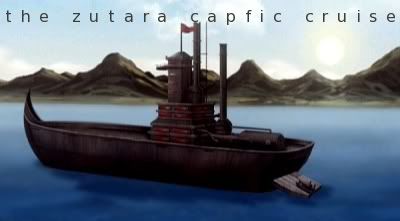 *special note: A 'capfic' is a style of fan fiction that was very popular during season one. The typical 'capfic' would have Zuko capturing Katara and holding her on his ship in an effort to lure the avatar to her rescue. It rarely took long for her to NOT want to be rescued.

And our story begins...
The metal hulk of the Fire Nation war ship cuts through the glassy sea. From the outside it appears to be a normal, destroyer class battle ship, moving from one place to the next, searching for enemies, traitors and various and sundry trouble makers.
From the inside it's obvious this is a Fire Nation battle ship in search of…
A Party!
Unfortunately the helmsman has disappeared. All experienced Fire Nation personnel are getting dressed for the cruise of the century. And at the helm is a pair of neophytes, eager to please, but fully aware they could run aground at any moment.
"It's okay Bagpipe," says Maha, her shaky voice belying the meaning of her words, "it will just add to the excitement that we don't know what we're doing."
"Whatever you say, Maha." Bagpipe rolls her eyes, knowing full well the fate of the entire bash hinges on their ability to figure out how to drive this thing!
"We have a chart, a map, a plan, lots of tea and a sungi horn. What else do we need?" Maha asks with impressive faux optimism.
"Guests?" Bagpipe responds with a smirk. "It's not like we sent out a bunch of invitations."
"Oh. Yeah." Maha answers lamely. "Why don't we just go get them?"
"Get them?"
"You know… get them."
"Kidnap them?"
"Sure. And when their friends come to rescue them we'll kidnap them too." Maha starts getting excited.
"I'm pretty sure that's illegal, not to mention creepy." Bagpipe shakes her head and tries once again to locate land through the telescope.
"Not if it's for a party." Maha sulks.
"Don't pout. You know I hate it when you pout." Bagpipe grumbles.
"Couldn't we kidnap just a few? Then you'll see how fun it is to sneak up on people unawares and bring them aboard the ship against their will only to have them turn around and thank you for it later!" A hopeful smile lights Maha's face.
Bagpipe considers this scenario. She's got to admit it's pretty flawless.
"I'm in. Let's just … get them." She turns to the itinerary and points to the South Pole. "The hot cocoa vendors will be waiting for us. We'll gather up our guests and head straight for the Southern Water Tribe."
Getting down to business, the two would-be hosts plan their strategy. The first capture is…