Post by Aangfan on Feb 14, 2008 17:43:03 GMT -5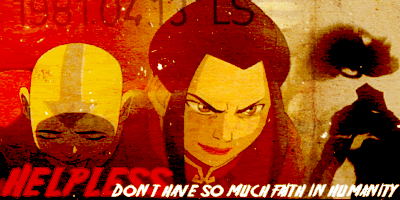 Authors Note: I put the Intense torture warning because there are some scenes that I feel are too gruesome for younger readers to view without being warned. In order to read this story, one has to keep an open mind throughout it. Without further ado, here is the first chapter. It's really short and not very good, but it's only the beginning.

Disclaimer- I do not own Avatar, the last Airbender or any of its characters.

Chapter One- Capture
A bead of sweat ran down Aang's face and fell on the forest floor far below. The sedative flowing through his veins was taking its full effect now, slowing his motions and blurring the forest before him.
Azula noted this with a cruel smirk on her face. She kept a close pace with the slowing Avatar, close enough to make him think he had to keep running. Running right where she wanted him to go. Of course this forest was unknown territory to him, but Azula had mapped out every tree, every river, every god dang twig. After all the painstaking care she put into this plan, it better work.
Ahead of her, Aang was beginning to slow down ever more. Azula did the same, if only to keep him moving. She had to make sure he didn't feel cornered, or else he may turn around and fight her here. Just a little further and he could have all the fighting he wanted. For some reason, a fire nation bard came into her head.
Run little child, the war drums are drumming.
Run little child, the fire is coming.
Run little child, 'fore the flames drop you dead.
Poor little child, you've no idea what lies ahead.
Yes, that fit the situation quite perfectly. Suddenly the trees gave way, revealing a solid wall of rocks. Yes, the cliff rose before them massively, blocking off all escape. The avatar had wheeled to a stop and now turned to face Azula, only to discover that she was not alone. Emerging from their hiding places, the fire nation soldiers quickly surrounded Aang. Perched in the tree branches were Yu yan archers, training their arrows onto the stunned boy.
Azula did not offer the Avatar a chance to surrender, for she knew that he would not accept it. Stupid boy.
"Fire." She ordered, and the soldiers were quick to obey. From their palms sprang streams of fire, hungry and growling as it raced forward to consume its prey. Defensively Aang spun the air around him, creating a force-field like shield that protected him from the merciless flames.
A bead of sweat ran down his face.
The soldiers remained expressionless.
A second passed. A minute. An eternity.
Aang could not tell how long they kept this up, and could only feel his own muscles scream under the pressure of maintaining his shield.
Another minute.
Aang's eyes began to roll into the back of his head. A thin line of blood trickled out of his nose.
Azula raised a hand, and the soldiers stopped firing. Aang's shield immediately dissipated, leaving him vulnerable and exposed. The boy moaned in exhaustion, his legs shaking horribly under the strain to keep standing. Suddenly his knees gave way and he collapsed, his body hitting the forest floor and resting there motionless. A row of soldiers moved forward, like animals swooping in on their prey. One knelt down and began to bind the Avatar's hands, while the others lowered their swords threateningly towards his neck, ready to impale at the sign of resistance.
But of course, as Azula had known, he did not move. Unable to walk, or even stand, the Avatar was carried over to her. Aang struggled to raise his head, gray eyes glazed over and uncertain. Azula moved towards him, lowering her head so that her lips were even with his left ear.
"Whatever you imagine I have in store for you, it's going to be ten times worse. I promise."
---------
There the end of that chapter. I love and appriciate feedback!